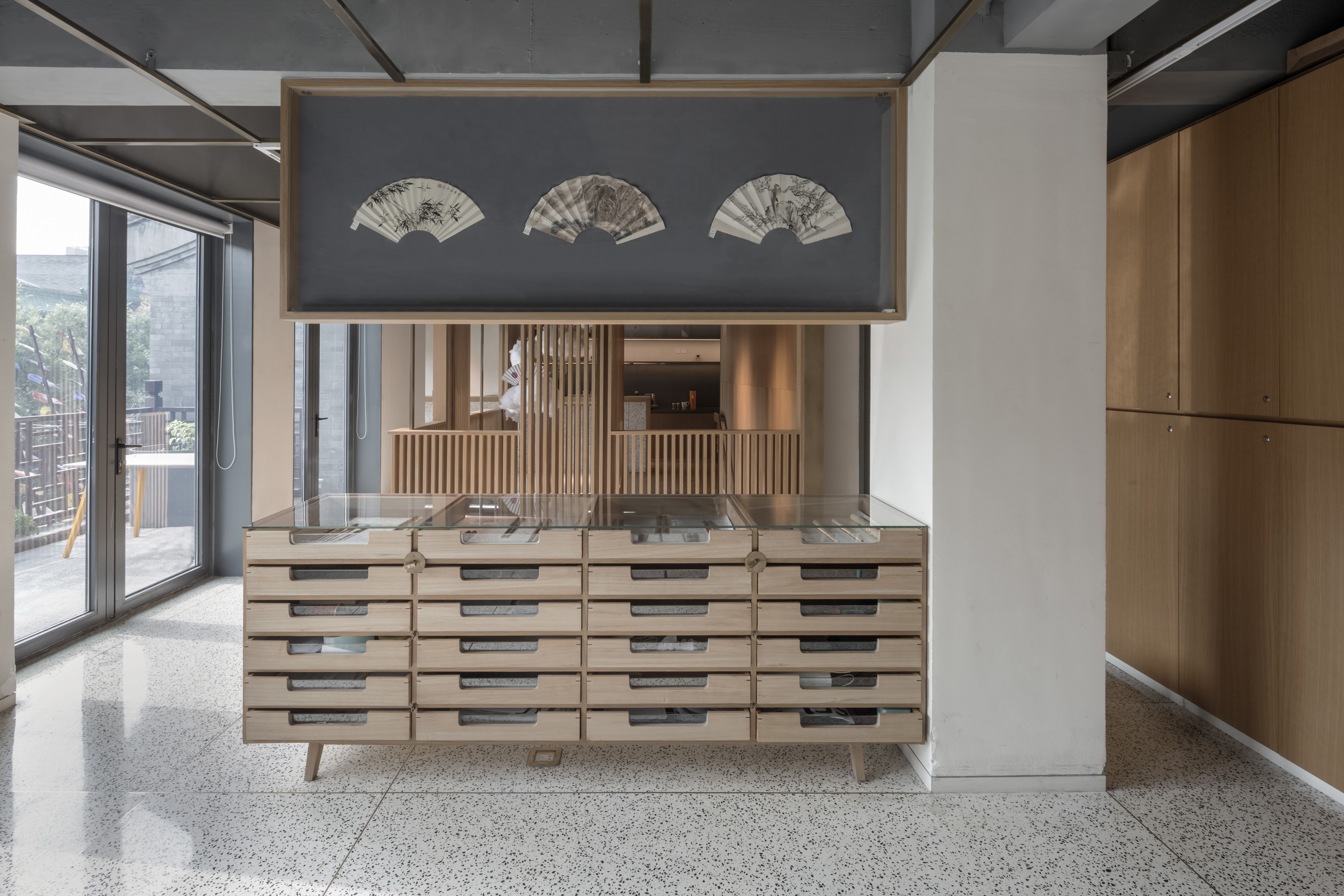 扇子工坊
Fan Workshop

扇子工坊 北京京扇子
Fan Workshop . Jing Fan Beijing



项目位于北京前门大街,这是一个北京最老的胡同区域也是近年改造成为了新旧交融北京味极浓的商业区。工坊所在步行街大栅栏南侧位置,来自世界与全国各地的观光客成为了街道上主要的风景,扇子工坊承载了推广中国扇子文化的功能,一层有个小面积销售区,二层与地下层为工坊区域,同时也兼具大众教学扇子制作空间。

团扇系中国的发明,又名纨扇,而后传入日本。折扇系日本发明,而后传入中国。日中两国共同智慧丰富了人类的生活。在日中交流史上不能不说是一件有趣的事。工坊空间的设计概念也因此而起,在日本建筑语汇中条形隔扇一直是我们所常见到的,大量密实的直线条一定程度的体现日本审美的方式,这也是日本浮世绘上对与雨的有趣表现方式,「江户名胜百景」是歌川广重的最后一组版画作,其中最著名的一幅即是「大桥骤雨」。更因曾被后期印象派大师梵谷所临摹而令世界瞩目。图中捕捉大自然的瞬间变化及旅人的突然反应,密密麻麻一条条的线条表现夏天的倾盆大雨,这种艺术表现方式在西洋及中国水墨画是看不到的。

因此,我们将日式线条植入前门大街一栋中式老楼,成为贯穿楼上楼下空间的主要视觉概念,试图让空间产生了中日文化呼应与交融。其他部分则一切回归功能性,水磨石地砖配上了白色乳胶漆,穿插着实用的工具材料柜,试着让空间回归扇子的本质 : 简单,优雅,实用。




The project is located in Qianmen Street, Beijing, which is the oldest hutong area in Beijing and has been transformed into a commercial district that blends the old and new into Beijing in recent years. At the south side of Dashilan, the pedestrian street where the workshop is located. Tourists from over the world have become the main scenery on the street. The fan workshop carries the function of promoting Chinese fan culture. There is a small sales area on the first floor, and on the second floor. The basement is a workshop area, and it also has a space for making fans for public education.

Tuan fan is a Chinese invention, also known as Wan fan, and then introduced to Japan. The folding fan was invented in Japan and then introduced to China. The common wisdom of Japan and China has enriched human life. In the history of exchanges between Japan and China, it cannot but be said to be an interesting event. The design concept of the workshop space also arises from this. In the Japanese architectural vocabulary, the strip-shaped partitions have always been common to us. A large number of dense linear strips reflect the way of Japanese aesthetics to a certain extent. This is also the right and rain on Ukiyoe. "One Hundred Scenic Spots of Edo" is the last set of prints by Hiroshige Utagawa, and the most famous one is "Ohashi Showers". It has attracted the attention of the world because it was copied by Van Gogh, the master of post-impressionism. The picture captures the momentary changes of nature and the sudden reactions of travelers. The dense lines express the downpour in summer. This artistic expression is not seen in Western and Chinese ink painting.

Therefore, we implanted Japanese-style lines into a Chinese-style old building on Qianmen Street and became the main visual concept that runs through the space upstairs and downstairs, trying to make the space have a Chinese-Japanese cultural echo and blend. The other parts all return to functionality. The terrazzo floor tiles are matched with white latex paint, interspersed with practical tool material cabinets, trying to echo the essence of the fan, which is elegant and simple and practical.